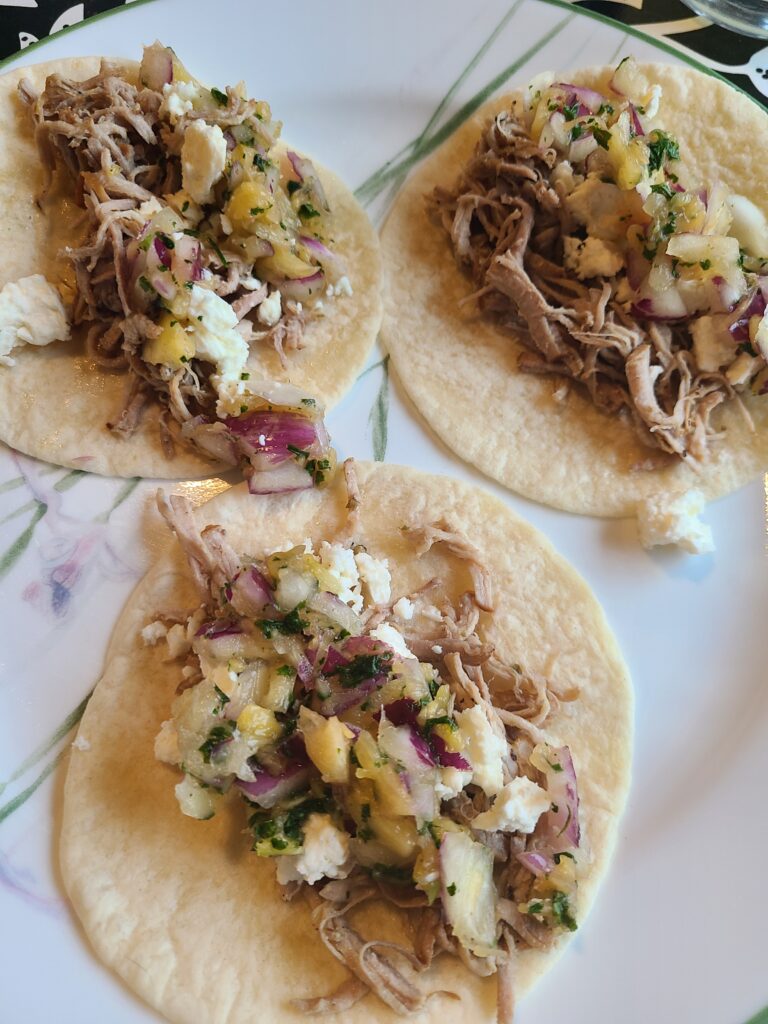 1 (4-5 lb) lean boneless pork roast, cut into 2-inch chunks with excess fat trimmed off
1 tbsp avocado or olive oil
1 cup chicken broth
6 cloves garlic, minced
½ cup fresh orange juice
¼ cup + 2 tbsp fresh lime juice
1 tbsp + ½ tsp ground cumin
1 tsp dried oregano
2 tsp salt
1 tsp fresh ground black pepper
2 cups finely diced fresh pineapple
½ cup finely chopped fresh cilantro (optional)
½ cup finely diced red onion
1 jalapeno, seeded and finely diced
1. In a medium bowl, combine chicken broth, garlic, orange juice, ¼ cup lime juice, 1 tbsp cumin, oregano, 1 tsp salt and ½ tsp pepper, set aside.
2. Season pork on all sides with remaining salt and pepper (can add more to taste)
3. Set the instant pot to sauté. Add the oil, followed by half the pork. Sear pork, turning every minute or so, until the pork is browned on all sides. Transfer to a fresh plate and repeat with the remaining pork. Press cancel to turn off the heat.
4. Pour in the reserved sauce from step 1 and toss lightly to coat the pork. Close lid securely and set venting to "sealing"
5. Cook on high pressure for 30 minutes, followed by a natural release (about 15 minutes)
6. While pork is cooking, combine all remaining ingredients except cheese and tortilla shells, to make pineapple salsa.
7. When the pork is done its natural pressure release, remove the lid and shred the pork.
8. Assemble with a small amount of pork, some cheese and pineapple salsa on each tortilla shell. Enjoy!
Quick Tip: A quick way to easily shred the pork is to place it in a bowl and use your hand mixer! Or you can shred it with 2 forks.