Sukup's patented Quad Metering Roll System takes grain drying to the next level. You no longer need to sacrifice grain quality for speed. The Sukup grain dryer with Quad Metering Rolls gives you both.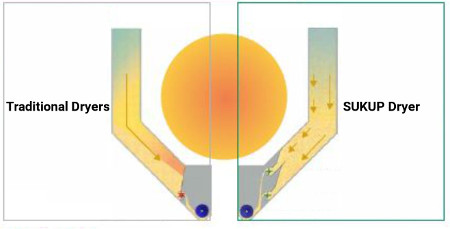 By using two metering rolls in each dryer column, Sukup pulls the grain down the columns at different speeds. The Quad Metering Rolls pull the inner, hotter layer of the grain down the column faster than the outer, cooler layer. This process produces more even moisture content of the dried grain, minimizes damage, and maintains higher test weights and overall quality.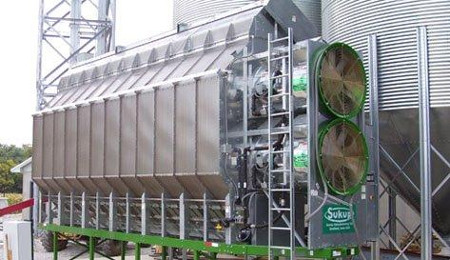 Patented Grain Cross-Over
The patented grain cross-over system works to eliminate over-drying and balances the moisture content of dried grain in a stacked dryer configuration. This exclusive, innovative system switches the grain from one side of the dryer to the other as it passes from module to module.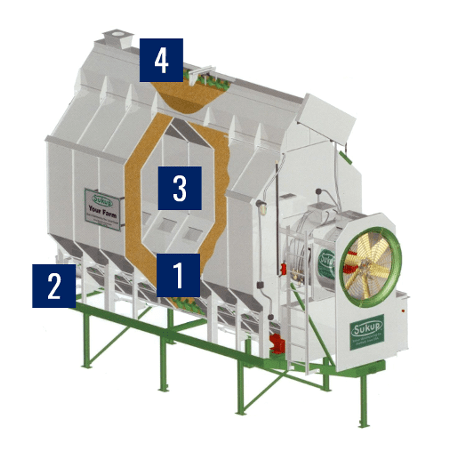 Quad Metering Roll System reduces over-drying, minimizes grain damage, and maintains grain quality.
Sensor in the discharge tub measures the actual moisture content of outgoing grain for much more accurate results.
RTD measures the air temperature inside the plenum and maintains actual plenum temperature as close as possible.
Sensor in the wet holding bin monitors grain level to control fill options.
Exclusive vacuum cooling design
Exclusive single unloading system
QuadraTouch Pro contorls with Smart Loop Moisturizer control
Optional conveyor unloading with static sampling