The Canadian government has opened applications for the Poultry & Egg On-Farm Investment Program (PEFIP) to offer financial support to supply managed Poultry and Egg Farmers. The program is aimed at increasing efficiencies, adapting to new standards, improving environmental sustainability practices and adapting your operation to production that is in line with consumer preferences.
Funding is available for Poultry & Egg quota holders who invest in any four of the areas (efficiency/productivity, food safety/biosecurity, environmental sustainability or consumer preference response) between March 19, 2019 and March 31, 2031.
Our motto 'Total Care, Always There' stands true and not just for service. Our poultry team has invested time and research into the program, along with recommended products that well help you best utilize your investment with the most output.
Some of these items include:
Cruiser Products Scissor Lift
The Cruiser Products Scissor Series is ideal for conducting barn checks, removing deadstock and adjusting equipment in a safe and extremely efficient manner. Negating the need for a portable ladder, your time required for these chores is reduced by more than 50%
---
Feed & Water System Upgrades, Updates
While feed pans may not look terribly different from 10 or 20 years ago, the design changes and adjustments have led to drastic results when evaluating bird health, feed access and the reduction in feed waste.
Investing in updating your feeding and watering system can lead to dramatic results in both cost reduction and an increase in flock health.
---
Feed Caddy
Starting chicks in your barn has never been easier than with the Feed Caddy, allowing you to lay feed paper and chick starter efficiently, effectively and with little to no waste.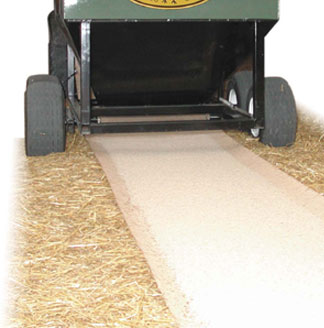 ---
Egg Packers
The Vencomatic Groups line of Prinzen Egg Packers offers an incredible 99.8% points down in 30 cell trays, all the while running through a capacity of 18,000 eggs per hour with the Prinzen 50, 25,200 eggs/hour with the Prinzen 70, 40,000 eggs/hour with the Speedpack 110, 80,000 eggs/hour with the Speedpack 220.
---
AgriMesh Seelow Bin Sensors
Monitoring and managing your feed bin levels has never been easier, or safer than with SeeLow by Agrimesh. This wireless sensor is installed on each bin, giving you real-time information providing safe and easy access to your bins
To have one of our Poultry team members contact you, please fill out below: